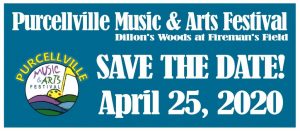 Purcellville Music and Arts Festival, April 25th, 2020
February 28, 2020

Categories:
Held at the historic Dillon's Woods and Bush Tabernacle at the Fireman's Field Complex, this family-friendly festival is free and open to the public. There are multiple stages featuring a wide range of entertainment. In addition to musical entertainment, you'll enjoy an art exhibit, a variety of activities, and find out about community organizations.
This is a community event designed to feature a local music, entertainers, and artists. There are four stages: two stages in Dillon's Woods, a community stage, and a stage inside the Bush Tabernacle where the Art Hall is located for the day.
In addition to musical performances and activities outside, attendees will enjoy an art show sponsored by the Purcellville Art Council. The art exhibit showcases local and regional artists of all ages and is located inside the Bush Tabernacle where the Art Hall stage performances are held. In addition to the art exhibit, several local art organizations have activities and information inside the Art Hall.
Several artisan and food vendors will be onsite. In addition, local organizations will provide fun activities and demonstrations for all ages including the Purcellville Business Association which has sponsored a historic trolley tour through town in the past. See the map here.
The annual Purcellville Music and Arts Festival is hosted by the Purcellville Parks and Recreation Advisory Board, the Purcellville Arts Council, and the Town of Purcellville.